NSG(NATIONAL SECURITY GUARD)
NSG was established in 1964 to tackle any kind of terrorism across the country.It only works in those areas where State police and Central police forces are not efficient.
These forces can be deployed in extreme conditions.This force is designed to undertake the works of
paramilitary forces
under extreme conditions.
It is a task oriented force and has 2 complimentary elements in the form of Special action force(SAF), including army personal and special ranger groups and Special Ranger Group(SRG),including personals on
paramilitary forces.
TASKS OF NSG
Neutralize terrorists in any area.
Neutralize terrorists in any Situation.
Handling Hijack situations.
Rescue hostages.
There tasks also include
Security of high risk VIP's.
Anti sabotage checks.
Back up security operations.
Advance Training of paramilitary forces.
PSO duties.
Bomb detection and disposal.
Organization structure of NSG
1.ADMINISTRATIVE DIRECTORATE
Administration
Provisioning
Engineering
Intelligence
Station headquarters
Medical
2.OPERATIONS DIRECTORATE
Operation and Training
Communication
Force Headquarters
3.TRAINING CENTER
4.FINANCE DEPARTMENT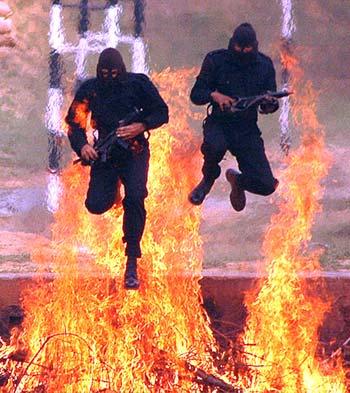 OFFICIAL WEBSITE
www.nsg.gov.in